The Australian government updated its travel warnings on 18 March 2020, stating that no Australian should travel overseas due to the COVID-19 pandemic.
We suggest delaying any future travel bookings until the situation becomes clearer.
It is important to be aware that, like other travel insurance, the TravelCard Real-Time Leisure International and Leisure Domestic insurance policies have a general exclusion in the event of an actual or likely threat of a pandemic or epidemic.
This means they are unable to provide cover for COVID-19 related claims, regardless of where you are travelling or when your trip was booked.
Postponing your travel plans?
If you have already purchased a TravelCard policy and have postponed travel plans as a result of the COVID-19 pandemic, please contact the TravelCard team on 1300 123 114 to change the travel dates on your policy.
Your first step should always be to contact your travel provider. Most airlines are giving customers who hold tickets for domestic and international travel the ability to cancel their booking and retain the value as travel credit. Please visit the airline websites directly for accurate and up-to-date information. For example, Qantas and Jetstar are offering travel credit until 31 March for travel booked up to 31 May 2020 – so it is important to contact them as soon as possible to ensure you can secure this credit.
Remember that most credit notes can be used on any route so if you cancel your trip to Bali and are not sure when you'll be headed there next, that's not necessarily a problem – credit notes can usually be used on an alternative route, for example Sydney to Melbourne, and are valid for 12 months.
For further tips and contact details of key travel providers please visit our blog.
Still have questions?
As the COVID-19 outbreak evolves, some TravelCard staff will be working remotely but it is otherwise business as usual so far as our customers are concerned. If you have any questions or need to make a claim, please contact us as usual on 1300 123 413 (update with direct Fund number).
—
As an ACA Health member, you can access TravelCard Real-Time Travel Insurance and enjoy travel insurance with less paperwork and Real-Time claims.

Discover the benefits of TravelCard Real-TimeTM Travel Insurance
Luggage delayed? Cash stolen? Sick or injured overseas? Usually, travel insurance requires you to cover the costs yourself, claim when you get home, then wait and worry. When you travel with the TravelCard, you'll be carrying a card to handle some of the most common problems travel can throw at you without being left out of pocket – so you can get back to enjoying your holiday. It's how travel insurance should be.
Medical issue overseas
Need a doctor? In pain and not sure what to do? Our 24/7 Global Assistance team can direct you to the nearest pharmacy, hospital or doctor and load the TravelCard with funds to cover your medical costs.
Delayed luggage
When your luggage isn't where you are, it's hard to begin your holiday. We can add up to $150 to the TravelCard to buy emergency essentials.
Stolen cash
No cash, no holiday! We can put up to $250 on the TravelCard to help you until you work out details with your bank.
Call our team on 1300 123 108 at any time for a quick solution and funds are instantly transferred to the TravelCard. We will then send an activation PIN to your mobile phone.
Why Choose TravelCard?
Overseas medical and hospital expenses
Cover for emergency medical and hospital treatment if you get sick or injured on your international trip
Cancellation and curtailment
Cover if your trip is cancelled or cut short due to an insured event (for example an unforeseen injury or illness)
Luggage and personal effects
Cover for your personal belongings if they get lost, stolen or damaged during your trip
Travel documents, credit cards and travellers cheques
Cost of replacing your passport, visas, travel money cards, travellers cheques and credit cards if they are lost, stolen or damaged
Personal Liability
Your legal liability for accidentally injuring someone or damaging their property during your trip
Rental vehicle excess
Any hire car insurance excess you become liable to pay as a result of the vehicle being damaged or stolen
Wide range of leisure activities
More than 90 leisure activities covered as standard including cycling, kayaking, snorkelling and safari.
All benefits and covers are subject to the terms, conditions, limitations and exclusions listed in the Combined Financial Services Guide and Product Disclosure Statement and on other policy documentation, including the schedule.
Not sure you need our Comprehensive Cover?
If you'll be travelling light, without expensive personal items, our Basic Cover could be for you. It offers essential medical cover for Australians travelling overseas, plus some cover for other common claims.
For help finding a policy that suits you, please call the TravelCard customer service team on 1300 123 108.
TravelCard: Cover and claim in 3 simple steps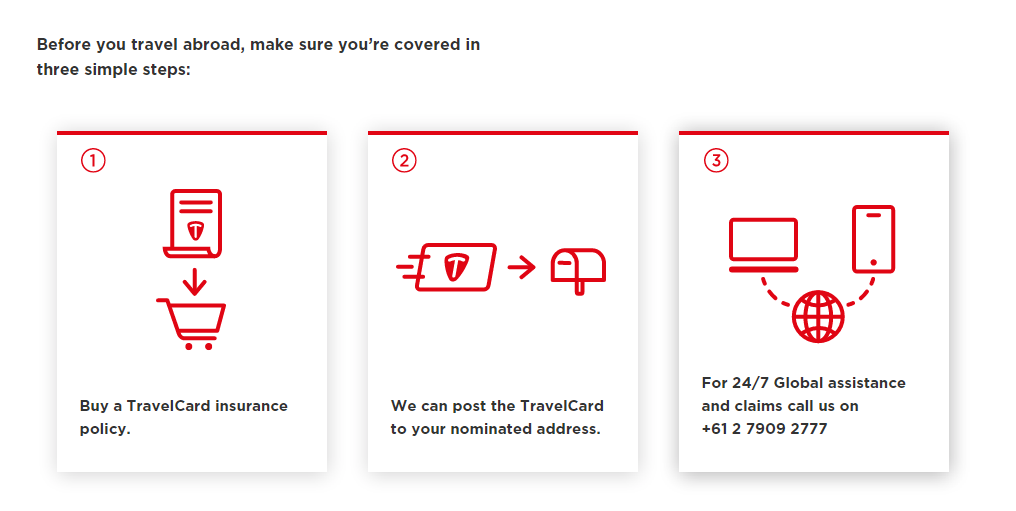 About TravelCard
We love helping people who travel, that is why we had the idea of creating "Real-Time Travel Insurance".
Our purpose
is to enrich the travel experience of Australians, by providing peace of mind through the delivery of real-time solutions.
Our philosophy
is to assume the best in everyone and that all our customers
are trustworthy.
Our Vision
is to constantly redefine the best level of care to travelling Australians.
Our Goals
are to constantly strive to deliver:
A) Market Leading Benefits across all our Travel Insurance Products
B) Real-Time claims approval & payment, while you're still travelling
C) A customer experience you will be pleased to tell your colleagues, friends and family.
Australian-based
We have a customer call centre for sales & support located right here in Australia.
Global Network
TCA Insurance Services Pty Ltd is part of PassportCard Ltd, a UK based company with well over 1 million travel insurance card holders worldwide.
PassportCard is a White Mountains Insurance Group (NYSE: WTM) and DavidShield company.
We're excited to partner with the Australian insurer, The Hollard Insurance Company Pty Ltd, to bring our products to the Australian market.