Why ACA & TravelCard partnered for our members?
Whether you are travelling around Australia or overseas, travel insurance saves you the worry of unexpected medical and travel expenses if things do not go according to plan. ACA Health has partnered with TravelCard Insurance offering quality cover options at competitive prices covering you for the following:
Overseas Medical and Dental Expenses
Cancellation or Holiday Deferment
Emergency Travel Arrangements and Accommodation
Lost or Stolen Luggage, Personal Effects, Travel Documents and Money
Rental Vehicle Accident Excess
Nil $ Excess
Most Sporting/Entertainment Activities
Extra Travel Covers also available, including travel delay, missed connection, legal expenses and more.
It is important when considering cover that you not only consider the premium but also the product coverage. All benefits and covers are subject to the terms, conditions, limitations and exclusions listed in the Product Disclosure Statement and on other policy documentation, including the schedule. It is important that you read the PDS to determine differences in cover in areas of your individual needs.
If you want to learn more about Travel Insurance call TravelCard on 1300 123 108.

Everything you need to know about TravelCard Real Time Travel Insurance
Travelling for business or leisure? TravelCard has you covered with hassle-free insurance if things don't go to plan. No out-of-pocket expenses. Avoid mountains of paperwork. And no waiting around to claim.
TravelCard: Cover and claim in 3 simple steps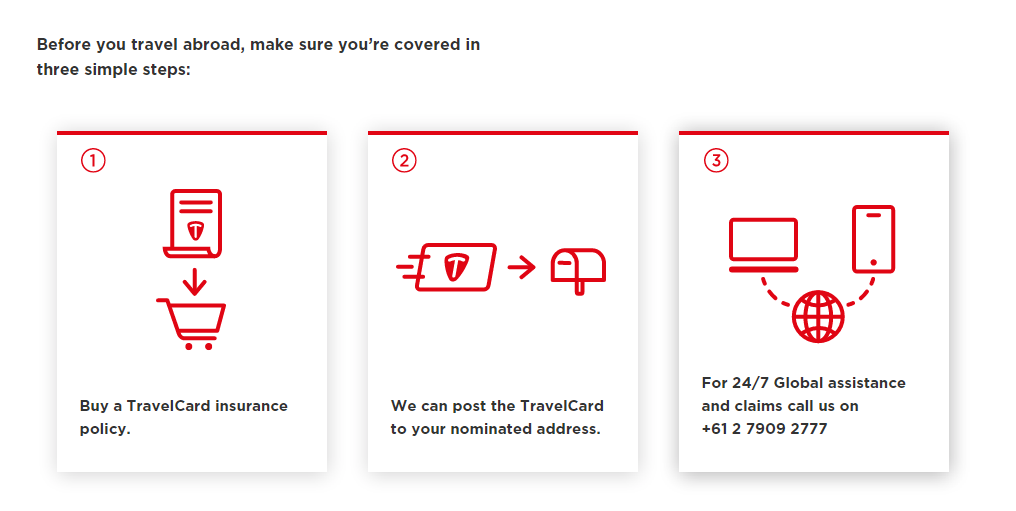 About TravelCard
We love helping people who travel, that is why we had the idea of creating "Real-Time Travel Insurance".
Our purpose
is to enrich the travel experience of Australians, by providing peace of mind through the delivery of real-time solutions.
Our philosophy
is to assume the best in everyone and that all our customers
are trustworthy.
Our Vision
is to constantly redefine the best level of care to travelling Australians.
Our Goals
are to constantly strive to deliver:
A) Market Leading Benefits across all our Travel Insurance Products
B) Real-Time claims approval & payment, while you're still travelling
C) A customer experience you will be pleased to tell your colleagues, friends and family.
Australian-based
We have a customer call centre for sales & support located right here in Australia.
Global Network
TCA Insurance Services Pty Ltd is part of PassportCard Ltd, a UK based company with well over 1 million travel insurance card holders worldwide.
PassportCard is a White Mountains Insurance Group (NYSE: WTM) and DavidShield company.
We're excited to partner with the Australian insurer, The Hollard Insurance Company Pty Ltd, to bring our products to the Australian market.